Glasgows most fun Fast Boat trips from the most convenient place on the Clyde. Glasgow city centre, shipyard tour and trips down the Clyde estuary.
Special Dumbarton Castle Weekend. 20th and 21st May. 2 trips daily at 1pm and 5pm to see the castle from the water and a stop off in Dumbarton for a drink or something to eat
We operate a simple turn up and go system between 1pm and 5pm each day! For details please see below.
Open Every Day Except 25th December and 1st January
City centre powerboat services from our modern base at the Tall Ship on the Clyde
No height, weight, age or mobility restrictions
One of the most exciting things to do in Glasgow City Centre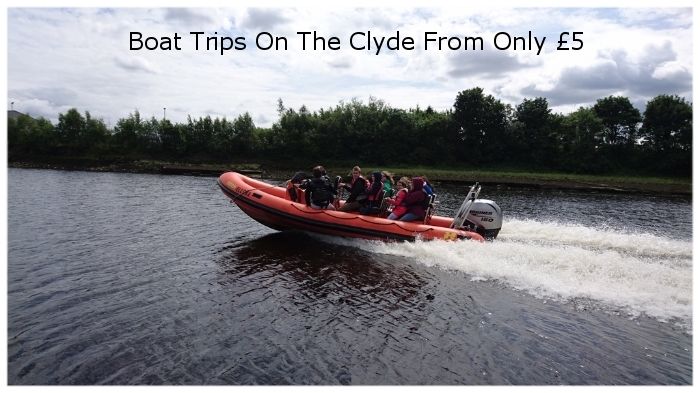 Seaforce provides the most unique on the water experience in Glasgow! A fast boat trip on the Clyde, City centre trips see the shipyards and trips farther afield!
Our Clyde boat trips are based right in the heart of Glasgow!
From our convenient city centre base on the New Kelvin Harbour at Tall Ship at the new Riverside Museum, we provide one of the most exciting things to do in Glasgow, we can take you on a fast powerboat ride or fast powerboat trip through Glasgow City on the Clyde, seeing all the fine new things Glasgow has to offer as well as see the shipyards, part of Glasgows renown past or go on other tours lasting from 1 hour to a 5 hour tour of the Clyde Estuary and its spectacular sea lochs.
A stop off for a meal or a visit to a friendly pub can be included on the rides to Dumbarton Castle and the Shipwreck tour.
We specialise in meeting the needs of individuals, families and groups of clients wanting to do something completely different.
The Details
Everything you need to know on one page.
No small print
No pages and pages of terms and conditions.
We hope the following answers any questions you may have if not here is my personal mobile number 07545 903 626 please free to call or text anytime.
Opening Days And Times
We are opened from 10am until 10pm every day except 25th December and 1st January.For bookings please call before 5pm
Our winter season runs from 1st November to the 1st March. Summer season runs from 2nd March to 21st October
10am till 1pm (Only Available In Summer Season)
If you have a group of 7 or more passengers you can book in the mornings, or evenings.
1pm till 5pm. Turn Up And Go!(Summer Season)
We operate a turn up and go system for the Clyde Ride on with the rides on the hour every hour. You do not have to book. If it is busy we will operate the rides on the hour and on the half hour.
Our guarantee for the turn up and go system.
We have a minimum passenger requirement of 5 adults or the equivalent in adults and children for each trip however if there are not enough passengers to go on the ride you turn up for then we guarantee to take you out on the next one no matter how many passengers we have
5pm till 10pm
These times are for groups of 7 or more that wish to book ahead of time. However if there are only a few of you wanting to go out please give us a call to see if there is room on any of the pre-arranged rides, if you want a shipyard tour please let us know so we can stop for photographs.
Winter Season
For winter season trip times please call 0141 221 1070 email info@seaforce.co.uk or SMS Greg on 07545 903 626
Can Anyone Come On The Fast Boat Trips?
Yes absolutely, there are no restrictions! The fast powerboat trips are suitable for all ages, shapes, sizes and We even have lifejackets to fit small babies. We are very experienced in taking children out. The youngest passenger was 3 months old all snuggled up wrapped in a babies lifejacket and the most elderly was 93.
If you have mobility issues then that is not a problem as long as you are ok with being assisted onto one of the seats on the boats. Whatever your situation we promise we will look after you and make your time with us very enjoyable.
How Long Do The Fast Boat Trips Last?
The ride times for the "Clyde Ride" and the Erskine Bridge ride, as published, are approximate and sometimes may take longer or less time than advertised. This is completely down to the speed the boat is driven at on the day. The route is always the same and will be explained by your skipper when you get here. To us your safety is paramount though.
Please note that on rare occasions there may be a wee delay due to the fact that the boats require refuelling if its been a busy day. On occasion due to weather conditions there may be short delays in going on your fast boat trip but it is rare.
The Erskine Bridge, Dumbarton Rock And Kilcreggan Rides
For the longer rides we require a minimum of 6 adult passengers or the equivalent in adults and children or cost to be met. This is simply due to the cost of fuel. Usually, in season and if the weather is favourable we have enough passengers to meet this criteria. Out of season this may not be the case. If you wish to hire the full boat so that no other passengers join your party then the minimum cost is the payment equivalent for 9 adult passengers.
How To Get More Information Or Make A Booking
You can book by telephone on 0141 221 1070 or texting 07545 903 626 to me Greg (usually gets an instant response) or email on info@seaforce.co.uk
Confirmation of your booking is done by telephone or email or sms.
Payment
Payment for your fast boat trip is made at the glass pavillion in front of the Tall Ship at her new berth next to the New Riverside Museum. Payment can be made by card, cash or cheque.
Important Information.
Age limits: None!
Size or weight limits: None!
Important Information
Please note that changes to passenger numbers can be made up to 24 hours in advance of your trip. After that period If there is a reduction in number of passengers please note the that the amount booked in before the 24 hour cut off point must be paid for.
We would appreciate your understanding if we are little late with a boat trip occasionally. Sometimes it takes a while to get persons with mobility issues on and off the boat which can on rare occasions cause a bit of a delay